My Burpee Challenge
I have decided to do a burpee challenge in order to support two programs that empower young women to become leaders through athletic programs. All donations will go to the organization Live Like Blaine (see more information below). Personally, sports have allowed me to grow as a leader, and I want all young women to have the same opportunities.
The challenge will be as follows:
100 day burpee ladder starting at 1 burpee on day 1 and ending at 100 burpees on day 100. At the end, I will have complete 5,050 burpees.
I will be starting on Monday, October 18th, 2015 and finishing on January 26, 2016.
My goal is to raise $300.  I'm asking for sponsorships of 1 penny per burpee which totals to a donation of $50.50. If that is too much for your budget, feel free to make it 1 penny per 2 burpees for $25.25 or even 1 penny per 5 burpees for $10.10. Any donation counts and will help provide athletic programs for young women.
Feel free to donate until the end of the challenge on January 26, 2016. Here is the link.
If you want to do your own burpee challenge, contact me! I would love to help!
What is a burpee?
Basically, you start standing, jump up with your arms in the air, squat down putting your hand on the ground, shoot your legs back into a plank position, return to a squat, and then jump back up to starting position. Variations include adding pull-ups, push-ups, squats, dumbbell arm curls, etc.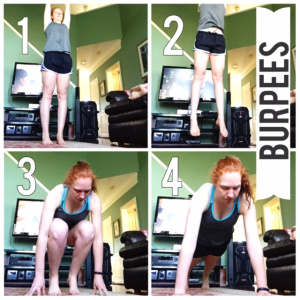 The classic burpee incorporates strength training, cardio conditioning, and plyometrics to tone your whole body (especially core) and increase cardio capacity. Another perk is that they are totally portable. Burpees make a great workout to spice up trail runs or outdoor activities, hotel room workouts, or track intervals.
For more, check out this post.
Information on Live Like Blaine and the organizations
Live Like Blaine  honors Blaine Steinberg, an accomplished athlete, student, and leader who passed away suddenly in March 2014, just two weeks before her 21st birthday. The glass of Blaine's life was always overflowing with joy and energy. Her relentlessly positive outlook inspired her family, friends, teammates and coaches. We hope to share Blaine's spirit with young female athletes and leaders so that they will see life as a series of opportunities rather than hurdles. It is our goal to support projects that will encourage these women to lead by example with Blaine's combination of grace and determination.
In addition to supporting future projects of Live Like Blaine, proceeds from the burpee challenges will go to support at least two deserving organizations which advance our mission of empowering and inspiring young women to become leaders through fitness and athletics. These are the Julie Foudy Leadership Foundation  and Bay Area Women's Sports Initiative.